bgs x indosurfaris
Explore Indonesia hidden waves with Indosurfaris. Experience of a life time.
Explore Banyak Islands 2020
Unforgettable 12 days of cruising Banyak Islands.
The Banyak Islands are a group of islands located between Simeulue and Nias off the westerncoast of Sumatra. Banyak meaning many refers to the plentiful number of islands they consist of,which allows for offshore conditions to be found year-round. The Banyaks is a National park andprotected area meaning commercial fishing has not yet ruined the reefs and marine life.

There are 12 waves all together. From beginners to world class. There furthest distance to travelto a wave (most southern wave to most northern is 4hrs at 10knots) the rest are an hour or twopassage, meaning short trips and plenty of time to surf. There is a beautiful mixture of rights andlefts offering something for ever level of surfer on any given day.
But Indosurfaris are dedicating our combined years of experience and knowledge to bring this untouched mecca to a select group of surfers willing to seek beyond the collective mindset that is surfing in Indonesia and explore new waves with a handful of mates, our experienced surf guides are there to get you into the waves of your life.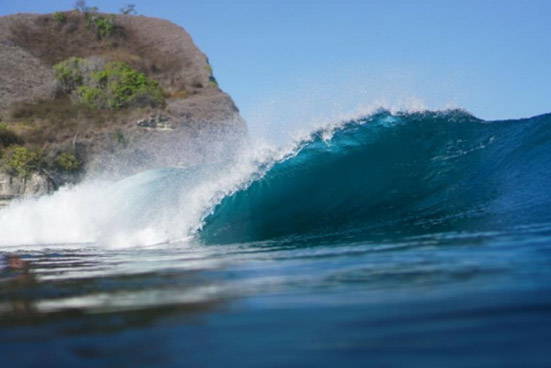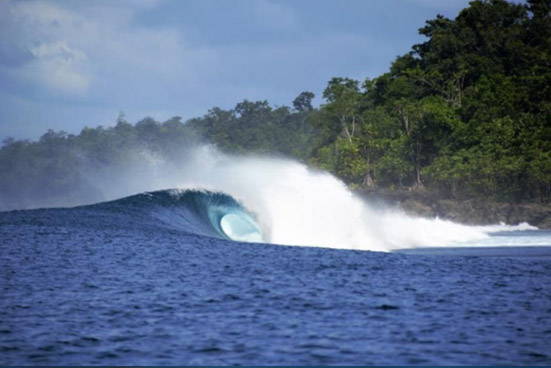 This will be the first season for our new vessel Raja Ombak which has been custom built in Sulawesi in 2019. Raja Ombak is a 25 Meter luxury custom built vessel designed for surf and spear fishing charters with four double cabins on the Bridge deck and three shared cabins below deck all with on-suite bathrooms and AC in each. Raja Ombak's deck design is laid out for maximum comfort and functionality with a surf station and swim platform on the aft deck for loading and unloading guests in any types of swell. She boasts three beautiful decks and can host up to 16 guests though we generally run with 8-10 as not to crowd the line ups.
With two Mitsubishi V6 engines and a combined 500HP we have no problem cruising at 10kts between surf spots maximizing our time in the water and sipping bintangs in calm anchorages. We run with a crew of eight (six local crew and two western guides for surf and spearfishing) we have a 6-meter fiber glass tender with two 40hp engines customized for spear trips as well as a 4,2-meter tiny with a 30hp perfect for smaller groups.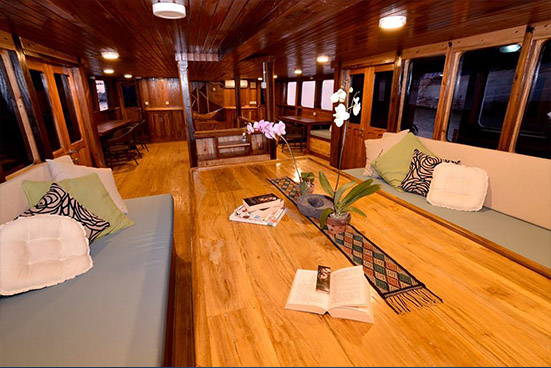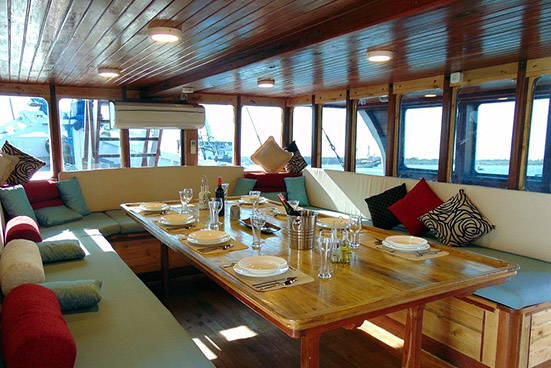 Your Dream Surf Starts Here
Please fill out the quick form and we will be in touch with lightning speed.
Minimum 8 person per trip. Full refund if the requirement is not met.
accommodation on board Raja Ombak, shuttle from airport to boat

3 meals a day, fruit, snacks, water and soft drinks, park fees and surf tax

2 free beers per guest a day.


guests are welcome to bring their own beverage

Frequently Asked question
Is the price include insurance?
Price above not includes insurance. You're your own safety.
Can I cancel or change date?
You have 1 week after payment is made to cancel or change date. Beyond that, you can not cancel, change date, or get refund.
Can I bring my own beer/drinks?
Yes! You can bring anything you can carry. Beer, drinks, meds, surfboards, literally anything. We want you to be happy on the trip. If you have run out of stock, We also sell beer/drinks on the boat.
Absolutely Yes! We are open to everyone. Join other surfers and explorer in this dream experience. 
Please note that our minimum passenger is 8 person. You will get full refund if the threshold is not met. 
Do you guys rent board in the boat?
We do not have boards in the boat. But we are open if you want to bring yours or anything that you can carry.
If you are looking to get a board, shop our wide range of surfboards from DHD, Pyzel, HaydenShapes. Or get a special board for this trip by custom it here.